Best Hot Water Systems in Sunshine Coast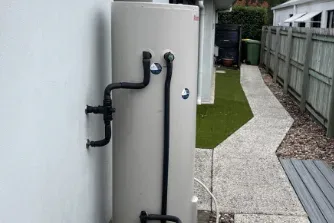 Got no Hot Water Systems in Sunshine Coast in your house? Looking to install a new hot water systems in Sunshine Coas? Or just casually browsing for hot water system prices online?
Few things are more annoying when you're eagerly looking forward to starting a refreshing morning, or to washing away your day's woes with a hot bath. Unless you are someone who loves cold showers, you just don't have the luxury to conveniently browse your options when emergency hits. Instead, you just go for an instant replacement of the same hot water system or just get the next best thing from the nearest store. But you might easily be missing out on the best hot water system for you.
So let's take a quick dive into the pros and cons of the various types of water heaters. So that you can make a well-informed decision on which one is best suited for you.
Hot Water Systems in Sunshine Coast
Types of Hot Water Systems in Sunshine Coast
One factor that you absolutely must think about when buying an instant heater is how they heat the water:
Electric Hot Water System
Electric water heaters are arguably the lowest priced, but can be the most expensive to use. So if you want your electric instant hot water for prolonged hours, other alternatives might be better suited for you.
Tank Capacity ranges = 25L to 400L
Instantaneous electric hot water systems – Available
An >electric hot water system can be installed both indoors and outdoors
Gas Hot Water System
Gas water heaters are your go-to option if you have a steady gas connection installed. Gas is cheaper than electricity and gas rates are not subject to variance through the day like electrical rates. They are also a more reliable source of heating.
Tank Capacity ranges = 135L to 400L
Instantaneous Gas Heaters – available
Usually installed outdoors, but can be installed indoors using a flue
Solar Hot Water System
Solar water heaters are arguably the costliest and most time-consuming to install. However, if you are looking for something reliable in the long run, their extremely low running costs will more than pay you back in return. Government incentives and rebates can help offset the purchase cost as well.
Solar gas boosted systems – available
Tank Capacity ranges = 181L to 400L
Installed outdoors
Heat Pump Hot Water System
Comparatively costlier, heat pump water heaters are however the most efficient electrical storage tank system. Government incentives and rebates can help offset the purchase cost as well. Best for use in large and well-ventilated areas.
Tank Capacity ranges = 220L to 325L
Instantaneous Heat Pump Heaters – available
Installed outdoors
Storage or Continuous Flow Hot Water Systems in Sunshine Coast
The next factor that you must consider is whether your requirements are better suited for a tank storage supply or a continuous flow instant hot water system.
Accessibility – With the continous flow heating system, the water is heated as you use it. While with the storage system, the water in a tank is heated all at once and then stored. This means that with the continous flow you can potentially never run out of hot water, no matter how many people shower before you. And with the storage, you'll have to wait for quite some time until the tank reheats if you run out.
Energy Consumption – Important thing to keep in mind when you buy a hot water system. Make sure that continuous flow heater systems heat only as much water as you need, when you need it. Tank systems heat all the water at once and store it until it needs reheating, which is not the most energy-efficient method.
Size – Its size is just as important as how much is a hot water system worth. Depending on your capacity needs, tank storage might be enormous in size whereas tankless continuous flow systems can be as portable as a suitcase.
Water Quality – Another important factor to consider with your water heater price is the water quality over time. Tankless systems have a flowing stream of hot water, which makes it free from the rust and particulate buildup that happens in tanks over time.
The Brands Of Our Hot Water Systems, Sunshine Coast
Here are some of the top of line Brands we install for you:- All Brands of hot water.
Thermann hot water system
Rinnai hot water system
Bosch hot water system
Dux hot water system
Vulcan hot water system
Everhot hot water system
Aquamax hot water system
Apricus solar hot water system
Stiebel Eltron hot water system
Rheem hot water system
Rheem hot water heater
Rheem solar hot water
Our trusted suppliers:
Reece Plumbing Supplies
Tradelink Plumbing Supplies
Samios Plumbing Supplies